[ curation : Channels of Communication ]


---
Channels of Communication
June 15th 2019 @ Zázemí Prague, Czech Republic
︎ Curated with
OBJECT:PARADISE
︎ Special thanks to
Tereza Munnigh
for photos at the event.
Watch the Channels of Communication full film
here
Channels of Communication
aimed to place the audience and readers in a similar channel of communication by creating an environment through improvised sound and happening to co-author connotative forces of language.
The objective of the project was to envision poetry as an inclusive medium which encouraged the breakdown of the performer-audience binary through a merging of language producer/receiver roles.
During the event, audience members heard improvised jazz, watched persons perform happenings, and listened to poetry of various languages. Together, the three elements created a context which placed language in a co-authored environment between audience and performer.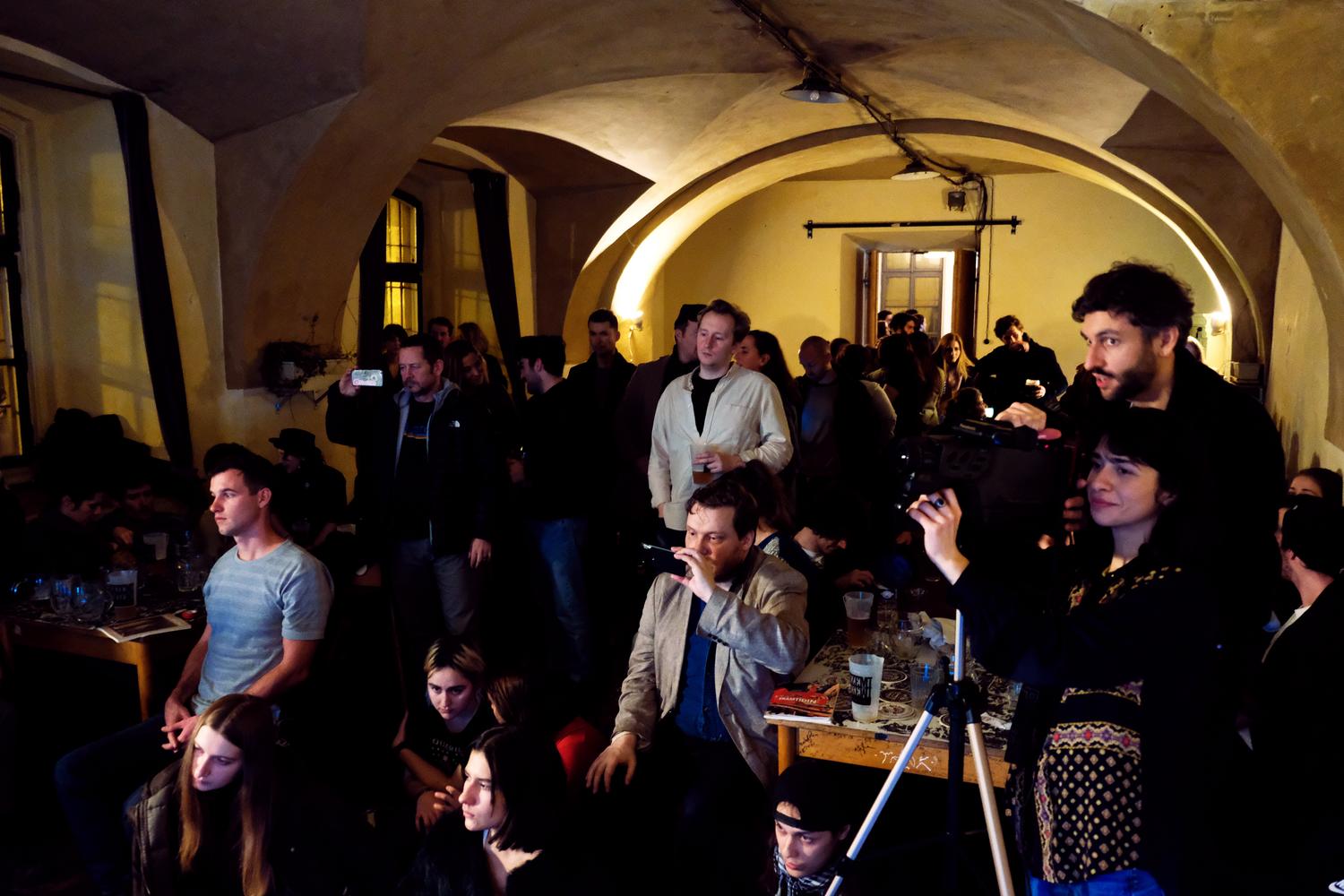 Readers
Tyko Say
Thor Garcia
Jaromír Lelek
Ásgeir H Ingólfsson
Vojtech Kudla
Stephan Delbos
Adéla Hrdličková
Maria Ferynů
Kateřina Matuštíková


Musicians

Heyme Langbroek
Roksan Mandel



Performers
Tyko Say
Jaromír Lelek
Joanka Taurogińska
everythingisterrible
Yeva Kupchenko
Hunter Andrews
Clara Zangova



See the full film below ︎
Event Description
Here you are: the universe before you, reflection of skyline strung in the room chaotic. It must mean something. Television towers peering down liberty's nickel. Girl in blue lipstick through the window. You know this language—all the reverberating verbs in your vino foot bounce. Have seen yourself here before. You understood the rhythms and sounds of all the languages in the world (without reason).

There is a conversation happening: a group of men in khakis, smoking outside in november teeth chatter. You feel joyous and are familiar as a sentence. Cool joint. Jazz man bellowing boyish bopping of piano keys. You awe your neck back & see the notes strung along the ceiling like a clothesline of some trumpet toot toots. What is happening? Is this a love sonnet spoken through helium? A woman painting the body of a canvas with her own? What have they done to language?

Some man you saw on the escalator in some metaphoric metropol is here?! Here? you are: listening and speaking, with closed lips, body swaying. Open to all channels of communication as boy in mirror getting dressed for evening splendor (like a real life lover). A sentence is not a complete thought. You think. Neither is this one. But you know what it means—the sights and sounds of the great stage.

The body covered in paint. The rhythm of not going home. The eyes you came with stuck behind the tooth, and you are speaking some foreign verb. And understand the language before you had not ever been learned, only known when you opened your ears, eyes, and palms (without reason like a real life lover). So here you are: the universe before you, reflection of conversation strung in your head static.



This event was also the album release party for OBJECT:PARADISE VOL. 1, which is available on all major streaming services.

The album feature readings from from Tyko Say & Jeff Milton, and improvised sound from Jenda Pudlák & Heyme Langbroek.

The album was produced by Tyko Say & Levente Szabó, and designed by Roksan Mandel & digitalized by Elina Osipova.




---
︎ Seen in


Paradise Poems from New York & Prague (Culture Smuggling)

---